The Society for the History of Collecting
are pleased to invite you to its
PhD and Early Career Researcher Workshop
*(open to all)
Collections and Impermanence: Transfer, Exchange and Disposal
online on Thursday 10th November (5.30-7.45pm GMT; 6.30-8.45pm CET; 12:45-2:45pm EST; 9:45-10:45am PST)
and in-person (hybrid) on Thursday 17th November (12-5pm GMT; 1-6pm CET; 7am-12pm EST; 4-9am PST)
 in The Gradidge Room, Art Workers' Guild, London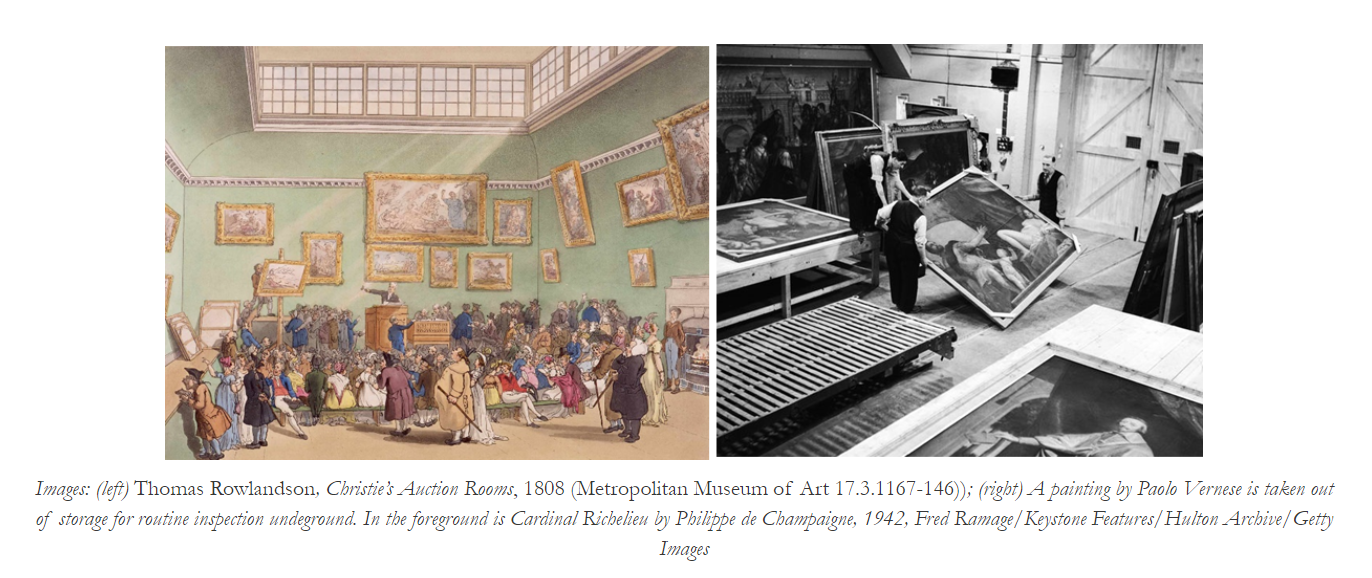 The history of collecting is the history of objects on the move. Objects collected travel through space – sold, transferred, exchanged, loaned, gifted and stolen throughout the world. They also travel through time – inherited, disposed, restored and destroyed. Each of these transitions gives objects new identities and meaning, while other aspects of their histories become obscured and erased.
The International Council of Museums is debating the various aspects of what defines a museum (an institutional collection), with the definition of museums as 'permanent' remaining uncontested. But can collections really be called permanent? Within recent scholarly research, the intrinsically mobile and circulatory nature of collections is coming more sharply into focus. Collecting and Impermanence: Transfer, Exchange and Disposal will examine and pursue further this avenue of mobility and circulation. It will question how moving beyond a preoccupation with collections' accumulative aspects changes how the history and future uses of collected objects can and should be reinterpreted.
Programme: 
Day 1 Thursday, 10th November, 5.30-7.30pm (Zoom)
5.30 Opening remarks
Panel 1: Collections and Social Change
5.40 Flaminia Ferlito, IMT School for Advanced Studies, From London to Boston. The disposal of sacred furnishing after the Italian anticlerical laws
5.55 Theresa Sepp, Zentralinstitute für Kunstgeschichte, The re:transformation of museum collections through the lens of Munich art trade sources 
6.10 Questions
Panel 2: Disposals and Transfers
6.20 Brad Scott, Queen Mary University of London & Natural History Museum, Plants on the move: transfer, removal and duplicates in the Sloane Herbarium
6.35 Jenny Durrant, University of Leicester, Between Memory and Oblivion: the development of disposal practice in UK museums
6.50 Polly Bence, Universities of Bristol and Exeter, South West and Wales Doctoral Training Partnership, Separation and re-connection: The story of a large Gatu vakatoga (Tongan-style barkcloth) in UK collections
7.05 Questions
7.15 Response & Discussion
*** 
Day 2 Thursday, 17th November, 12.00-5pm (hybrid)
Introductions & Coffee
Panel 3: Life-spans of Museums
12.30 Lily Crowther, Balliol College, Oxford & V&A,  (Con)temporary collecting: newness and transience in the Museum of Construction & Building Materials 
12.45 Frances Potts, Nottingham University, An impermanent museum: the origins of Nottingham Castle Museum
1.00 Mark Liebenrood, Birkbeck University, Closures, transfers and uncertainty: the British Coal Collection 
1.15 Questions
Panel 4: Language and Categorisation
1.25 Haoyang Zhao, University of Glasgow, Dealing Looted Chinese 'Manuscripts' in the mid-late 19th Century UK
1.40 Carlee S. Forbes & Kate Anderson, Fowler Museum, 'Taken with Considerable Risk': Language of Violence and Reinventing Authenticity of African Objects in Early 20th Century Auctions
1.55 Questions 
2.05 Response & Discussion 
2.35 BREAK 
Panel 5: Private Collections and the Art Market
3.00 Nicole Cochrane, Royal Academy of Arts, 'Now completely Americanized': Collecting and Transatlantic Exchange of the Lansdowne Marbles
3.15 Maria Metoikidou, University of Glasgow, Unveiling the History of an East Asian Art Collection through Transfer and Sale
3.30 Questions
Panel 6: Gender
3.40 Megan Shaw, University of Auckland, Transfer, Exchange and Sequestration: The Afterlife of the Buckingham Collection, 1628-1649
3.55 Kim Glassman, Queen Mary University, London, Dislocated, Displaced and Disregarded: The Female Transatlantic Plant Specimens behind W. J. Hooker's 'Flora'
4.10 Questions 
4.20 Response & Discussion 
4.50 Closing remarks 
Any questions please contact events@societyhistorycollecting.org with the subject line 'PhD/ECR workshop'.