SOCIETY FOR THE HISTORY OF COLLECTING
Diversifying the History of Collecting
EMERGING RESEARCH WORKSHOP:
Collecting the Sacred: Art, Belief and Identity
Tuesday 2nd March 2021, 18.00-19.30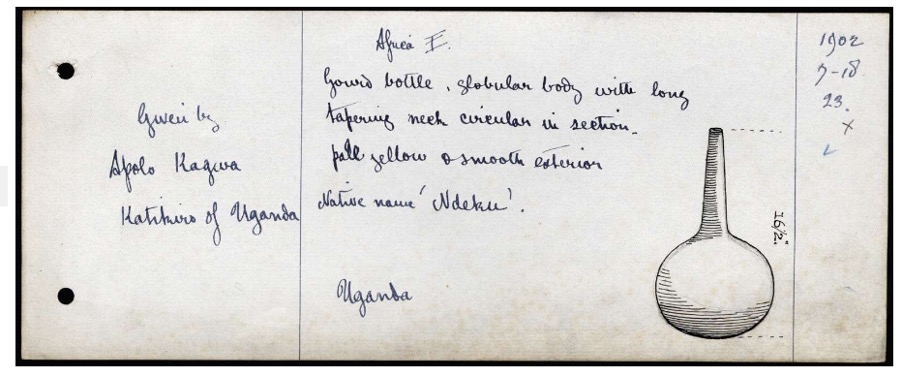 Description of Gourd Vessel, Given by Sir Apolo Kagwa, Katikiro of Uganda, British Museum, Af1902,0718.23
We are delighted to announce the second round of events in our 2020/21 series designed to diversify research into the history of collecting. This round is dedicated to the question of religious artefacts and religious motivations in the history of collecting, a topic of growing scholarly interest and public importance in recent years. Please join us for a workshop showcasing new research by postgraduates and early career scholars. We aim to create an engaging and friendly environment to share ideas and methods related to this burgeoning field.
Dr Ali Bennett
Reading 'fetishes' and 'charms' in early twentieth-century missionary collections from Uganda
The presence, categorization, and display of so-called 'fetishes' and 'charms' in Christian missionary collections from Africa have long been problematic for museums and those that study them. This paper will offer a new set of objects and perspectives to the discussion. Drawing on a large group of items from Uganda that are now dispersed in museums across Britain, it will trace the complex history of their meaning and acquisition, and complicate previous histories of such missionary collections.
Mathew Norman
A 'record of friendship': John Bacon the Younger's portraits of evangelicals
Over the course of nearly seven decades, the sculptor John Bacon the Younger (1777-1859) created several hundred portrait drawings of his 'friends'. The collection is notable as a visual record of members of the evangelical movement with whom Bacon associated. Pointing to the origins and intensity of his faith, this presentation will suggest how Bacon's collection of portraits records one man's religious convictions across time, including the allowances that he made to account for changes in personal and confessional circumstances.
Dr Heidi Tan
Collecting and Curating in the Pagoda Museums of Myanmar
Gifts have been accumulated, stored and displayed at sacred sites in Myanmar for millennia as they have elsewhere within the Buddhist world. This lecture addresses the way these objects of merit-making are collected and displayed at the Shwedagon Pagoda Museum in Yangon. It will demonstrate how the model of the pagoda museum is underpinned by the deep connections that devotees cultivate with sacred objects, and how this model challenges mainstream museum conventions in Myanmar and beyond. Heidi Tan is Postdoctoral Research Associate Department of the History of Art and Archaeology, SOAS University of London
Karen Winslow
"The same cry rose from all our lips at the first sight of the great thing…" – Bernard Berenson, 1894
Bernard Berenson (1865-1959) was born Bernhard Valvrojenski in Russian-ruled Lithuania, the son of a rabbi. During his second year at Harvard, Berenson became an Episcopalian. In 1900, he married the daughter of two Quaker preachers. Later while living in Italy, he converted to Catholicism. Berenson is considered one of the most influential connoisseurs of Italian Renaissance paintings and drawings, publishing several scholarly books and articles still referred to by curators and art historians. He also collected Asian and Islamic Art. For this discussion, I will share the contents of two letters revealing what only can be described as his religious awakening with Asian art.
To register and for any further information please write to events@societyhistorycollecting.org