Seminar Collection: Édouard André and Nélie Jacquemart: Two Collectors of Late 19th Century Italian Art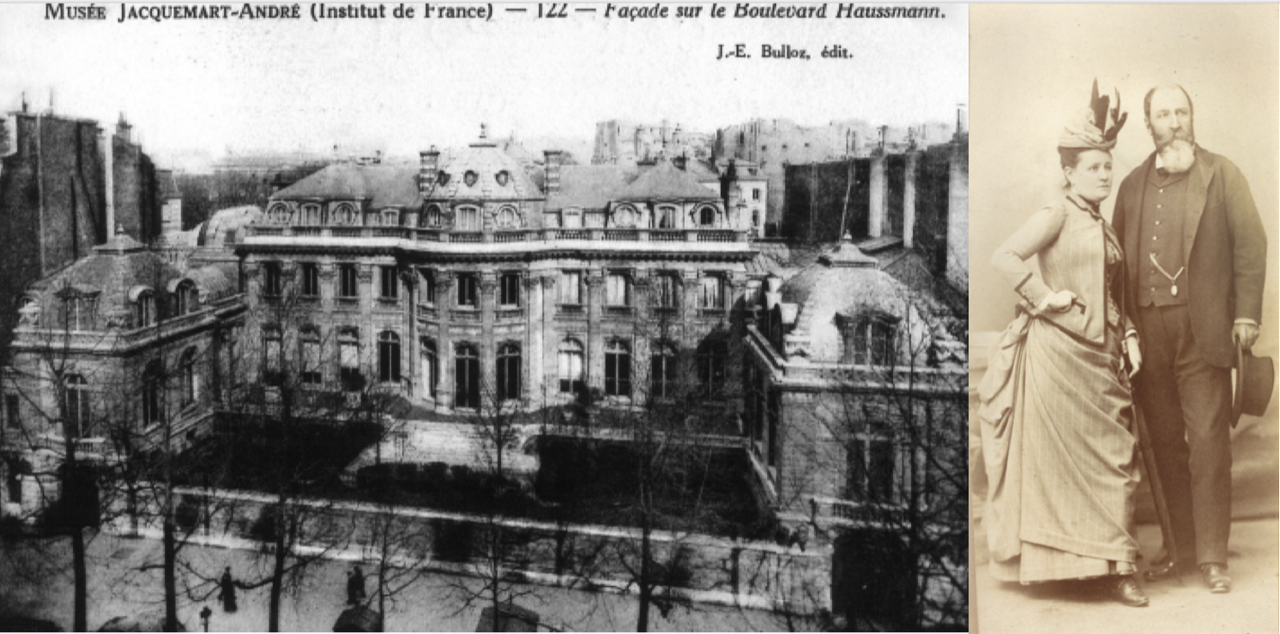 Left: Street façade of the Hôtel Jacquemart-André in 1913 – © Fond Bulloz, 1913; Right: Édouard and Nélie André, 19th century, photography – © Paris, Musée Jacquemart-André, Institut de France.
January 19th 2021, online (Zoom), 6.30-8.00 pm Paris Time
Speaker: Giancarla Cilmi (EPHE)
---
Édouard André (1833-1894) and Nélie Jacquemart (1841-1912), are part of this practice of collectionism which was the prerogative of the great western bourgeoisie at the end of the 19th century. He belongs to a large French Protestant family of bankers, she is a Catholic painter of modest origins. There is therefore nothing to suggest that they married in 1881. One wonders what could have united two such different people. It is most probably their common passion for art. Contrary to most collectors of their time, from the very beginning of their union, the André couple proved their originality by buying their works, not at public auctions, but directly from antique dealers. As Nélie Jacquemart's passion for Italian Renaissance art quickly overtook her husband's taste for French productions of the 18th and 19th centuries, they gave their purchasing policy a precise orientation. Over the years, they have built up a unique private "Italian museum", bringing together paintings, sculptures and objets d'art, while at the same time trying to recreate the atmosphere of a Florentine palace in their Parisian mansion. For almost thirty years, they maintained close relations with the best Italian antique dealers and with the greatest art experts of the time, thus constituting an exceptional ensemble, still intact today. Through the analysis of their modus operandi and the study of the functioning of the Italian art market, we can better understand their taste and show the importance of this unique ensemble in the eclectic panorama of late 19th century collecting.
---
Giancarla Cilmi holds a doctorate in art history from the École Pratique des Hautes Études in co-supervision with the École du Louvre. In 2019, under the supervision of Michel Hochmann and Gennaro Toscano, she defended her thesis on the constitution of the Italian collection of the Jacquemart-André Museum and on trade between France and Italy at the end of the 19th and beginning of the 20th centuries. Temporary teaching assistant at the École Pratique des Hautes Études, she is currently completing the publication of the first catalogue of the Jacquemart-André Museum's Italian paintings.
---
Please note that this seminar will be in

French

.
It will be free of charge and over Zoom. Please make sure you register in advance, in order to receive the necessary information, at this address: collection.seminaire@gmail.com.