The Society for the History of Collecting invites you to its Zoom Lecture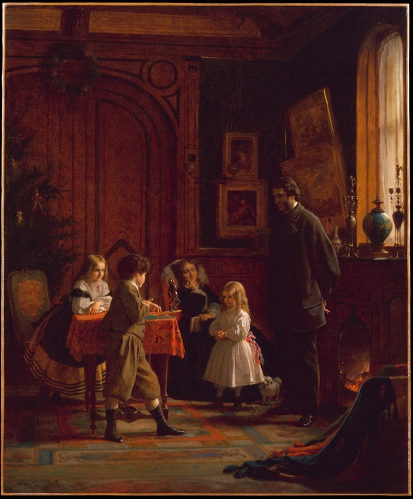 The American-ness of American Collecting—A Work in Progress
Dr Elizabeth A. Pergam
July 27, 2021 at 6:30 pm BST (1:30 pm EDT)
Online
The debate over how to define "American" has a long history and has taken on new relevance in interpretations of the art of the United States. Similarly, while the notion of a specifically national approach to art collecting has its roots in the burgeoning of the post-Civil War art market, the questions this designation raises are more timely than ever. A significant feature of the late nineteenth-early twentieth-century discourse on the identity of American collections is that it often was generated by European observers. These commentators were sometimes curious about collectors' motivations, but more often were envious of the deep pockets of Americans who "drained" the country town houses across Europe and Britain. A parallel profile of the American collector developed in the decades-long effort to remove tariffs on works of art, culminating in testimony presented to the House Ways and Means Committee that led to the passage of the Payne-Aldrich Tariff Act of 1909. In examining these two strains of thought, this lecture will address the broader issue of whether there is, in fact, a distinctly American method of assembling collections of art.
Elizabeth A. Pergam is on the Faculty of Sotheby's Institute of Art, New York, where she teaches courses on the history of collecting and the art market. Her publications include, "From Manchester to Manhattan: The Transatlantic Art Trade after 1857" (2005), The Manchester Art Treasures Exhibition of 1857: Entrepreneurs, Connoisseurs and the Public (2011), and "Provenance as Pedigree: The Marketing of British Portraits in Gilded-Age America" (2013). She edited the volume Drawing in the 21stCentury: The Politics and Poetics of Contemporary Practice (2015), which developed from her tenure as the curator of the Dian Woodner Collection, New York. She is on the Steering Committee of the Americas Chapter of the Society.
Members of the Society will be sent the zoom link directly the day before the talk.
Non–members should email the Society for the History Collecting at events@societyhistorycollecting.org for joining instructions.
Image Credit: Eastman Johnson, Christmas-Time, The Blodgett Family, 1864. Oil on canvas, 30 x 25 in. The Metropolitan Museum of Art, Gift of Mr. and Mrs. Stephen Whitney Blodgett, 1983 (1983.486)