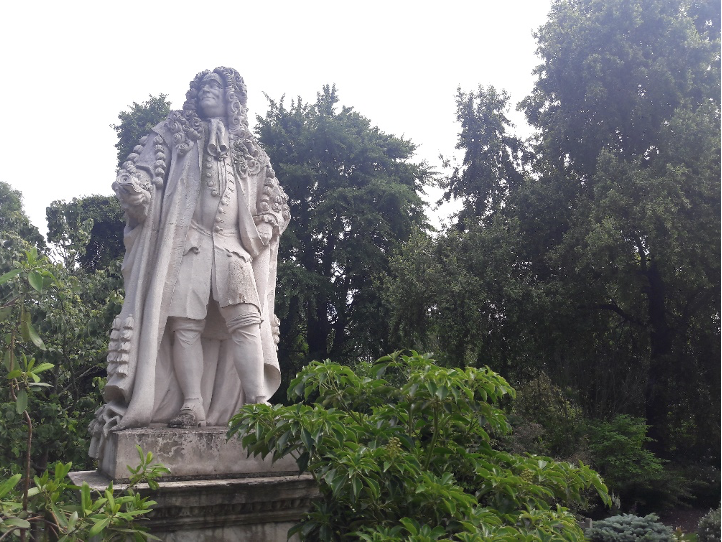 The Society for the History of Collecting
Invites you to its Online Lecture
'New Perspectives on Hans Sloane'
ECR & PhD Workshop
Thursday, 20th January & Thursday 27th January, 2022 at
6:30pm GMT // 7:30pm CET // 1:30pm EST // 10:30am PST
This two-part workshop provides a platform for new research across the collections of Hans Sloane (1660–1753). Sloane – a physician, naturalist and president of both the Royal Society and Royal College of Surgeons – amassed a large and varied collection during his lifetime, participating in and profiting from global networks of European colonial expansion as he sought to collect the world. His collections brought together over 50,000 books and manuscripts, natural history objects, coins, prints and drawings, antiquities and ethnographic items. Sloane's museum was sold to the British state at his death in 1753, and can now be found within three national collections: the British Museum, British Library and Natural History Museum. Over two sessions, doctoral and early career researchers will share their research from across Sloane's collections, discussing particular objects as well as Sloane's position in wider collecting cultures and networks. Topics will include: decolonising Sloane's herbarium and botanical collections, the interrogation of his catalogues, his printed will and testament, and his network of peers. The panels of speakers include Bradley Lewis Scott (Queen Mary University of London and Natural History Museum), India Cole (Queen Mary University of London and Oxford Botanic Garden), Will Burgess (Queen Mary University of London), Victoria Pickering (Natural History Museum), Edwin Rose (University of Cambridge), Alice Wickenden (Durham), Deborah Leem (UCL) and Janet Stiles Tyson (Birkbeck, University of London).
The discussion will be moderated by Miles Ogborn (Queen Mary University of London) and Julianne Nyhan (UCL).
SPEAKERS' ABSTRACTS
Bradley Lewis Scott (Queen Mary University, London and Natural History Museum) 'Global dimensions of the Sloane herbarium'
Over the course of his life, Hans Sloane amassed an extraordinary collection of dried plants occupying some 300 volumes. In addition to the specimens he collected in Jamaica, the major part of the material was bought by or bequeathed to Sloane, and includes the collections of individuals such as the Duchess of Beaufort, William Courten, Philip Miller, James Petiver, Richard Richardson, and Robert Uvedale. Frequently studied throughout its history, the herbarium and its collectors have been the object of much recent research. However, the collection as a whole has not been described since the work of James Britten and James Dandy (published 1958), and changes in available technologies and historiographical approaches now offer opportunities to develop an extended description and analysis of the herbarium, and its global dimensions. This talk will outline the possible approaches and directions of the project, including the generation of some high-level quantitative data, and the identification of those parts of the collection about which little is known. With a strong emphasis on understanding the networks of collecting and exchange, the work will research the lesser-known actors, and make visible the roles of indigenous collectors and enslaved people in the making of the herbarium. Finally, it will contribute to discussions about what it could mean to decolonise natural history collections, and re-centre the perspectives of people other than Europeans in how we imagine the natural world.
India Cole (Queen Mary University, London and Oxford Botanic Garden) ''[E]ven to my Admiration': Hans Sloane and the Duchess of Beaufort'
Mary Somerset, Duchess of Beaufort (1630-1715) pursued botany at her London gardens in Chelsea, and at her stately home, Badminton, in Gloucestershire. She compiled a vast number of herbarium specimens in the last few decades of her life – including many plants that were new to England. After her death, these carefully preserved specimens were given to Hans Sloane, who had been a correspondent of Somerset and had provided her with seeds, plants and information during the later years of her life. Somerset's herbarium was bound into twelve volumes, and became part of Sloane's vast herbarium. My talk will give an overview of the relationship between Somerset and Sloane, and will demonstrate how their relationship was indicative of – and distinct from – collaboration in early-modern botanical networks.
Will Burgess (Queen Mary University, London) 'The Will of Sir Hans Sloane, Bart. Deceased'
This paper focuses on The Will of Sir Hans Sloane, Bart., Deceased – a printed version of Sloane's will that appeared within a month of Sloane's death in January 1753. This document has most often been referred to only for its literal function in conveying Sloane's collection to the British state, but this belies its rhetorical and cultural complexity. I draw attention to a number of rhetorical strategies and paratextual features in the will to suggest that it is a crucial source for understanding how Sloane and his circle sought to create particular identities and meanings for his collected objects, in the landscape of scientific collecting from which they emerged.
Victoria Pickering (Natural History Museum) 'Collecting and cataloguing plants and natural history'
This talk will give a brief overview of how Sloane formed his collection of Vegetable Substances, as well as his other natural history collections. By focusing on Sloane's manuscript catalogues in which he labelled and described objects, this talk will reflect on how social relationships were key to his collecting practices, as well as the challenges of looking for an overarching ordering system.
Chair: Miles Ogborn (Queen Mary University, London)
Professor of Geography at Queen Mary University of London. His books include Indian Ink: Script and Print in the Making of the English East India Company (Chicago, 2007), Global Lives: Britain and the World, 1550-1800(Cambridge, 2008) and The Freedom of Speech: Talk and Slavery in the Anglo-Caribbean World (Chicago, 2019). His work on Sloane includes, M. Ogborn and V.R.M. Pickering, 'The world in a Nicknackatory: encounters and exchanges in Hans Sloane's collection,' in Adriana Craciun and Mary Terrall (eds) Curious Encounters: Voyaging, Collecting, and Making Knowledge in the Long Eighteenth Century (Toronto University Press, Toronto: 2019), pp. 113-37, which came out of the AHRC CDP on Reconnecting Sloane (2012-15).
Members will receive a flyer with the link to the talk at least two days before the event.
Nonmembers should register by emailing: events@societyhistorycollecting.org