The Society for the History of Collecting
are pleased to invite you to its
inaugural Scottish lecture
on Thursday 27 October 2022 at 6pm
at the Kelvin Hall Lecture Theatre, Glasgow, and Online
We are delighted that James McNaught will deliver a lecture
entitled 'William McInnes: a Mercantile Collector in early 20th Century Glasgow'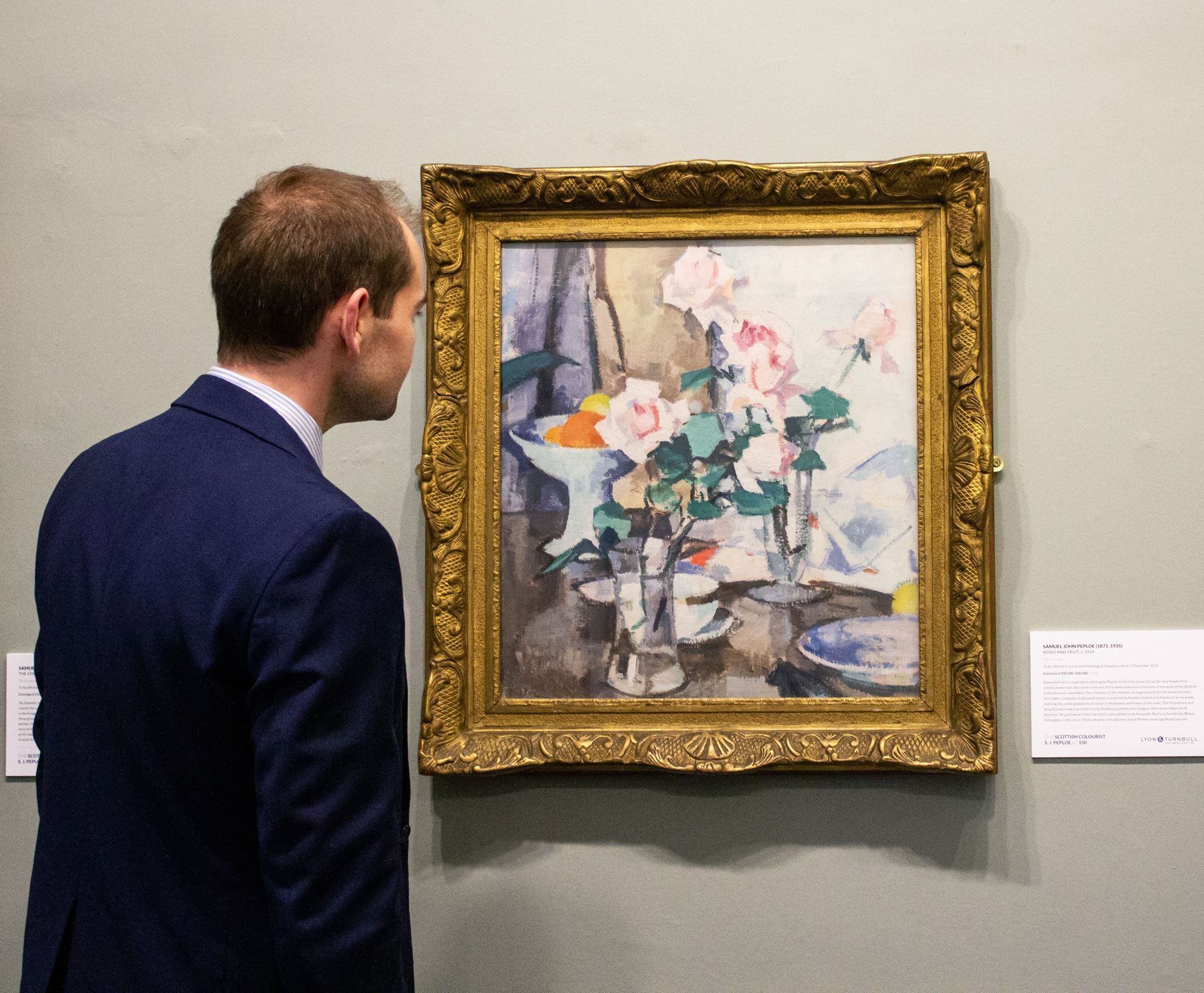 James with S J Peploe, Roses and Fruit, c.1924, oil on canvas
One of the many public spirited citizens that have enriched the Collections held within Kelvingrove is William McInnes. Between 1910 and 1944 McInnes amassed a significant collection of French Impressionist, Glasgow Boy and Scottish Colourist paintings which he  bequeathed to the City of Glasgow. In 1944 the bequest catapulted the French representation in the civic collections of Glasgow to major significance.
James McNaught is an Associate Director, Valuer and Head of Lyon & Turnbull Glasgow & West Coast Scotland team.   James graduated from Aberdeen University with an MA in Commercial Surveying & Spatial Planning, it was not long after that he joined Lyon & Turnbull in 2011 to pursue his passion for Fine Art. James has a passion for the history of collecting and more particularly Glasgow Collectors. He recently gained a Merit in his Masters from Glasgow in Collecting & Provenance. James's dissertation, 'The McInnes Collection' was written on a mercantile collector in the early 20th century – William McInnes (1868-1944).
James is deeply involved in the arts in Glasgow and is currently Chair of the Hunterian Friends and a regular lecturer for various audiences around the West of Scotland.