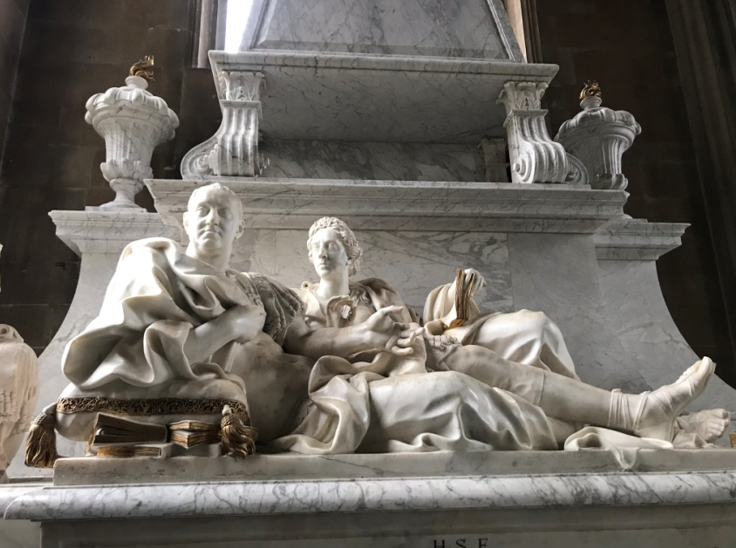 The Seminar for Collecting and Display invites you to its seminar
on Monday, 7 February, at 6 p.m. GMT
by Zoom
Amy Lim will speak on:
The 5th Earl and Countess of Exeter as late seventeenth century collectors
of contemporary Italian art
Between 1678 and 1700, John Cecil, the 'Travelling Earl' of Exeter, and his countess Anne, undertook three extended journeys to Europe in order to buy furnishings and artworks for their newly refurbished country seat, Burghley House.  While most Grand Tourists focussed their attention on Old Masters, the Exeters collected works by contemporary artists on a scale unmatched by their peers, acquiring several hundred paintings by over sixty different artists from across Italy.  Their funerary monument, commissioned in Rome from Pierre-Etienne Monnot and based on papal tombs, presented them as sophisticated patrons of the arts.
This paper will consider the acquisition strategies and methods that shaped the Exeters' collection.  It will argue that the model for their collecting was found not in England, but among the great European art patrons whom they met on their travels, above all, Cosimo III de'Medici.
Amy Lim is researching 'Art and Aristocracy in late Stuart England', in an AHRC Collaborative Doctoral Partnership with the University of Oxford and Tate.  She has published articles on British art from the seventeenth to the twentieth centuries in Furniture History, The Georgian Group Journal, First World War Studies, and Art & The Country House. Amy worked on the exhibition 'British Baroque: Power and Illusion' (Tate Britain, Feb-Mar 2020), and recently curated 'Mind and Mortality: Stanley Spencer's Final Portraits', at the Stanley Spencer Gallery, Cookham until 27 March 2022.
To attend please register on the IHR website (do note that you must register by Sunday)
Go to https://www.history.ac.uk/search-events-seminar; scroll down to Collecting & Display seminar. Click on the "book now" red button for the appropriate seminar.
You will be sent a link to the zoom session on the day of the seminar. If you do not receive it by midday, check your spam, email collectingdisplay@gmailcom or text +447881630121and we will send you the link directly.