The Seminar for Collecting and Display invites you to its seminar
on Monday, 16 January, at 6 p.m (GMT)
IN PERSON OR ON ZOOM
Sara Ayres, Centre for Privacy Studies, Copenhagen University will talk on
Prince Otto of Hesse in Whitehall Palace, 1611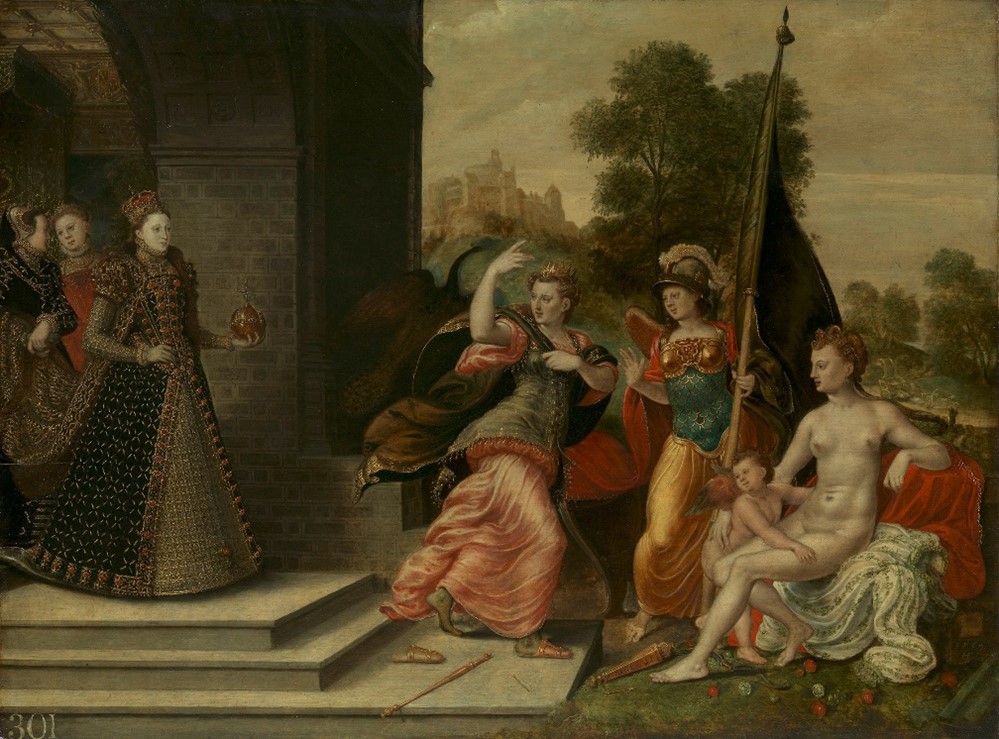 Hans Eworth (d.1574) Elizabeth I and the Three Goddesses, 1569, oil on panel, RCIN 403446
Abstract
This paper draws upon an unpublished manuscript account of Prince Otto von Hessen-Kassel's princely tour in England and Scotland in 1611. From within this rich manuscript, the paper focuses specifically on the account's descriptions of James VI and I (1566-1625) and Anna of Denmark's (1574-1619) rooms at Whitehall Palace, and the images and objects collected therein.
The paper will describe the detailed account of both spaces and relate this to the objects and images displayed, many of which survive in collections today. Despite observing the constellation of display in both spaces, and considering what this may tell us about the significance of objects in their early contexts of display, the paper will consider the ways in which these spaces participated in the performance of their inhabitants' status, their personal genealogies and the performance of their gender.
Early modern art objects possessed singular agency and impressed themselves deeply upon beholders, a phenomenon thoroughly elaborated by Pamela H. Smith, Lina Bolzoni and Thijs Weststeijn.[1] As these scholars have shown, early modern images were thought to quite literally fashion their viewers. Since princely fashioning was not merely visually effected (through dress, manners, comportment), but viscerally, we might reasonably expect that these collections, and all their works of art, were intended to make a permanent impression upon young Otto. To what extent might we think about early collections as theatres of political agency and their display as creating spaces for the production of intersubjective, dynastic embodiments encompassing and binding the Protestant courts of Northern Europe?
[1] Pamela H. Smith, The Body of the Artisan: Art and Experience in the Scientific Revolution, University of Chicago Press, 2004, Lina Bolzoni, The Gallery of Memory: Literary and Iconographic Models in the Age of the Printing Press, trans. by Jeremy Parzen, University of Toronto Press, Toronto, 2001, p. 130; Thijs Weststeijn, The Visible World: Samuel van Hoogstraten's Art Theory and the Legitimation of Painting in the Dutch Golden Age, Amsterdam University Press, 2008, p. 209.
Biography
Dr Sara Ayres is currently an Associate Fellow affiliated with the Centre for Privacy Studies, Copenhagen University. She also teaches at Coventry University. Her research has been funded by the Carlsberg Foundation, Nordea Fonden, the Pasold Foundation, the Paul Mellon Centre and the Association of Art Historians. She has published on early modern art at the Jacobean courts in the Journal for Historians of Netherlandish Art and the Oxford Art Journal. Her monograph, Danish-British Consort Portraiture 1600-1900 is forthcoming with Lund Humphries in January 2023.
JOINING INSTRUCTIONS
To attend in person: The seminar will take place in the Institute of Historical Research, Senate House, Malet St London WC1E 7HU, room Wolfson NB02. Please register with the Institute of Historical Research, stating that you will be attending in person.
To attend online please register with the Institute of Historical Research, Collecting and Display and a link will be sent to you on the day. If it doesn't arrive by midday please email collectingdisplay@gmail.com to let us know and we will send it again.
Please note: you need to register by Sunday evening.