The Oriental Ceramic Society Online Lectures 2020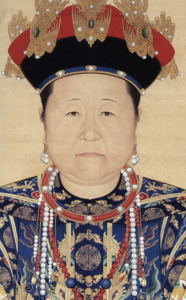 A series of six informal lunchtime lectures
15 and 28 July, 11 and 25 August and 15 and 29 September
The fifth lecture will be given by Rosemary Scott
Gifts from the Kangxi Emperor to his Grandmother
Tuesday 15 September at 13:30 BST
The Kangxi Emperor, who ruled China from 1662-1722, was devoted to his grandmother, Empress Dowager Xiaozhuang (1613-1688).  Born into the Khorchin Mongol Borjigit clan, and given the personal name Bumbutai, the Empress Dowager was hugely influential not only during Kangxi's childhood, but also after he took up the reigns of government. He is quoted as saying: 'I credit her with the accomplishments of my entire career.'  On the occasion of his grandmother's birthdays the Kangxi Emperor commissioned special gifts to be made for her.  This lecture will examine some of these gifts in the context of the relationship between Kangxi and his grandmother.
Rosemary Scott took an honours degree in Chinese Art & Archaeology at the School of Oriental and African Studies, University of London, where she went on to do postgraduate research into early Chinese lacquer and its relationship to other materials.
On leaving university she joined the Burrell Collection in Glasgow as Assistant Keeper for Oriental art.  She became Deputy Keeper of the whole collection the following year.  Four years later she became Curator of the Percival David Foundation of Chinese Art, SOAS, University of London, combining the running of the museum with undergraduate and postgraduate teaching and research.  In 1995 she became the first Head of the new Museums Department at SOAS, responsible for both the David Foundation and the new Brunei Gallery.  In 1997 Rosemary Scott joined Christie's, becoming International Academic Director, Asian Art.  Since 2016 she has been an independent academic consultant.
She has curated a number of exhibitions and has translated, researched and written numerous books and articles on the Chinese decorative arts. One of her most recent was an article entitled 'Tea and the Changing Status of Materials in Tang Dynasty China' in Arts of Asia, Nov-Dec 2018.  She has travelled extensively, researching and lecturing in Asia, America, Australia and Europe.  She is a former President of the Oriental Ceramic Society.
We are recording all these lectures and making them available in the Members' section of the OCS website, for the benefit of members who are unable to join the live event.
The final lecture of this online series will be given on 29 September by Dr Teresa Canepa, and details will be circulated in advance.
Please write to info@orientalceramicsociety.org.uk to join by zoom.