The Society for the History of Collecting
Invites you to its Online Lecture
The Practical Kunstkammer: Prudence, Techne, and the Demise of Wonder
Prof. Mark A. Meadow
History of Art and Architecture, University of California, Santa Barbara
29 October 2020 at 6.30pm GMT / 2.30pm EDT / 11.30am PDT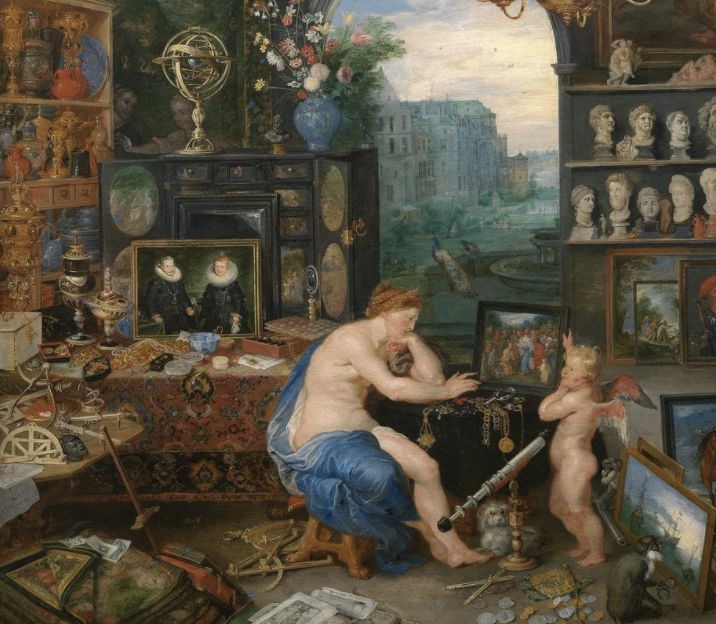 Jan Brueghel the Elder and Peter Paul Rubens, Allegory of Sight, 1617, oil on panel. Madrid, Prado Museum.
In this talk, Prof. Mark Meadow will reconsider how we understand the functions and meaning of early modern curiosity cabinets. In the sixteenth century, a new kind of pragmatic, knowledge-oriented collection emerged in southern Germany. Called Kunst- and Wunderkammern, these new museums were intimately linked to the emergence of the modern nation state and the associated requirements of economic, political, and social management. Considering the enormous expenditures of intellectual, technical, and financial capital these museums required, they necessarily laid claim to serving useful purposes. Understood in this way, the modern scholarly preoccupation with "wonder" as the core concept at play in these collections becomes problematic. Prof. Meadow will propose the neo-Aristotelian concepts of phronesis or prudentia (the contingent, practical wisdom demanded of a ruler) and techne (the non-contingent, practical knowledge of making things required of a craftsman) as alternative ways of conceptualizing the work of these early museums.
Biography:
After earlier careers as a Baroque oboist, caterer, housepainter and music publisher, Mark A. Meadow became a specialist in Northern Renaissance art and the History and Theory of Museums. Currently Chair of the Department of History of Art and Architecture, University of California Santa Barbara, his research interests include the relationship of art and rhetoric, early-modern ritual and spectacle, print culture, social networks, and, most recently, the origins of Kunst– and Wunderkammern. He is the author of Pieter Bruegel the Elder's Netherlandish Proverbs and the Practice of Rhetoric (2002) and has also produced translations and critical editions of two important sixteenth-century sources: Symon Andriessoon's 1550 Duytsche Adagia ofte spreeckwoorden (2003) and, with Bruce Robertson, Samuel Quiccheberg's 1565 Inscriptiones vel tituli Theatri Amplissimi (2013). He is a co-founder and editorial board member of the book series Proteus: Studies in Identity Formation in Early-Modern Image-Text-Ritual-Habitat, with Brepols Publishers in Belgium.
Mark's awards include fellowships and grants from the Kress Foundation, the Mellon Foundation, the Belgian-American Education Foundation, the J. Paul Getty Grant Program, the Delmas Foundation and the Netherlands Organization for Scientific Research. Mark has held research residencies at the Getty Research Institute, the University of California Humanities Research Institute, the Alfried-Krupp-Wissenschaftskolleg in Greifswald, Germany and the Berlin Prize from the American Academy in Berlin. Between 2006 and 2011, he was Professor (Hoogleraar) for History and Theory of Collections at Leiden University, in addition to his position at UCSB.
To register for this event, please email events@societyhistorycollecting.org