The Society for the History of Collecting
Invites you to its 2nd online lecture
Art in China/Chinese art in Europe: a comparative study of approaches to collecting in China and Europe, 1500-1900
Dr. Stacey Pierson
Thursday 9 July 2020 at 6.30 pm (BST)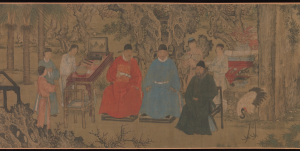 The study of collecting, as a sub-field of museum studies, is a subject that has its origins in European scholarship. From founding texts such as Susan Pearce's On Collecting: an Investigation into Collecting in the European Tradition (1999) to more recent surveys like Museum Archetypes and Collecting in the Ancient World (2014), collecting and its methods are usually interpreted through a Eurocentric lens. This is partly a consequence of the subject's association with museum studies – just as the museum space is a European invention, so therefore is the practice of art collecting, it is assumed. But is it? In East Asia, collecting as a field of enquiry and practice has a very long history, much pre-dating its presumed European origins in ancient Greece and Rome. In China, for example, there is evidence of intentional object collecting from as early as the Shang dynasty, c. 1500 BCE and this would develop over time into a sophisticated form of object engagement and cultural activity. In an interesting historical confluence, from about 1500 CE, China's collecting practices began to intersect with those of Europe through Chinese objects, artworks and texts which were being transported in ever greater numbers. Thus objects and artworks from a single source were collected and consumed in distinct but parallel spaces, demonstrating that the study of collecting and its interpretation can be more global in its scope. This talk will present a case for this by comparing approaches to collecting Chinese art and related objects in both Europe and China during the period 1500-1900, when direct and indirect interactions with China became increasingly more common.
Dr Stacey J. Pierson is a Reader in the History of Art and Archaeology Department at the School of Oriental and African Studies, University of London. Her areas of specialization include.the art history, archaeology and technology of Chinese ceramics, including export wares; the movement of Chinese ceramics and its impacts; the history of collecting Asian art and its display in Britain. Among her many publications are  Private Collectung, Exhibitions and the Shapng of Art History in London: the Burlington Fine Arts Club in 2017 and Collectors, Collections and Museums: the Field of Chinese Ceramics in Britisn 1560-1960 in 2007.
To register for this event please email events@societyhistorycollecting.org 
Image Credit: Elegant Gathering in the Apricot Garden. Anonymous, after Xie Huan (Chinese, ca. 1370–ca. 1450), ca. 1437
Handscroll; ink and color on silk. Dimensions: Image: 14 5/8 x 95 3/4 in. (37.1 x 243.2 cm)
Credit Line: Purchase, The Dillon Fund Gift, 1989. Accession Number: 1989.141.3 – Metropolitan Museum of Art