THE SEMINAR ON COLLECTING AND DISPLAY INVITES YOU TO ITS FREE ONLINE SEMINAR
The Display of Ancient Art in Museums
By
Dr. Eleni Vassilika
Monday, 15th March, 2021 at 6 p.m. GMT (nb the US moves its clocks to summer time at 2am Sunday 14, 2021) 
PLEASE NOTE THAT YOU MUST REGISTER ON THE IHR WEBSITE TO ATTEND THIS SEMINAR AND THAT YOU MUST REGISTER BY SUNDAY EVENING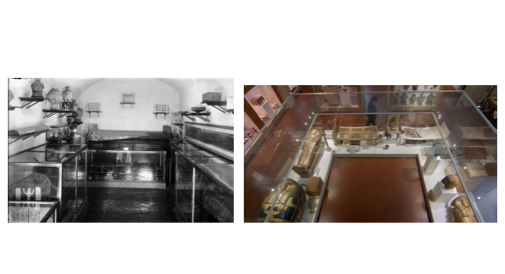 Encyclopedic museums face different and arguably more complex issues than do those devoted to pictures or, what we in the museum business refer to as, 'flat art'.  We may recall the old overstuffed wooden showcases with archaeological or natural history specimens in serial repetition from our museum school trips. Museums with antiquities and mostly fragmentary objects have a harder time in engaging visitors in their exhibitions of ancient or ethnographic cultures remote in time or place. On a practical level alone, the installation of fragmentary three-dimensional objects, is more complex than hanging pictures in a conventional gallery. The objects are usually placed under glass, and in the old days they might have been pinned to a fabric-covered sloping surface or slant. Now individually mounted on 'invisible' Plexiglas plinths, the objects are aesthetically positioned and transformed from specimens to ancient works of art. The shorter and wheelchair-bound visitors should be able to view them easily and the taller and perhaps older exhibition goers should not have to bend or struggle to read a label that is placed too low. Lighting a table case can also be tricky since visitors have to bend over to examine objects, thereby casting an obscuring shadow. Ancient art galleries often involve great weights, like four-ton granite Egyptian sarcophagi that may have to be sited on the ground or lower ground floor distant from the portable antiquities. Many are the considerations in bringing ancient art to life.
Dr Eleni Vassilika was Keeper of Antiquities at the Fitzwilliam Museum of the University of Cambridge (1990-2000), before taking up the Directorship of the Roemer-und Pelizaeus-Museum in Hildesheim Germany (2000-2005), from where she moved on to become Director of the Museo Egizio in Turin Italy (2005-2014). Although considered a specialist in ancient art, she regards herself as a generalist, able to address a wide spectrum of the arts. Her directorial management skills were honed through the challenging and possibly unparalleled experience of presiding over the successful privatisation of both continental museums. Eleni returned to the UK in 2014 as Curatorial Director of the National Trust, responsible for historic properties. Since 2016 she has devoted her time to research, writing lecturing and organising exhibitions.
TO REGISTER:
GO TO IHR SEMINARS, https://www.history.ac.uk/search-events-seminar
SCROLL DOWN TO COLLECTING & DISPLAY SEMINAR
CLICK ON THE "BOOK NOW" RED BUTTON ON THE APPROPRIATE SEMINAR.
YOU WILL BE SENT A LINK TO THE ZOOM SESSION ON THE DAY OF THE SEMINAR.
If you encounter any difficulties you can email collectdisplay@gmail.com