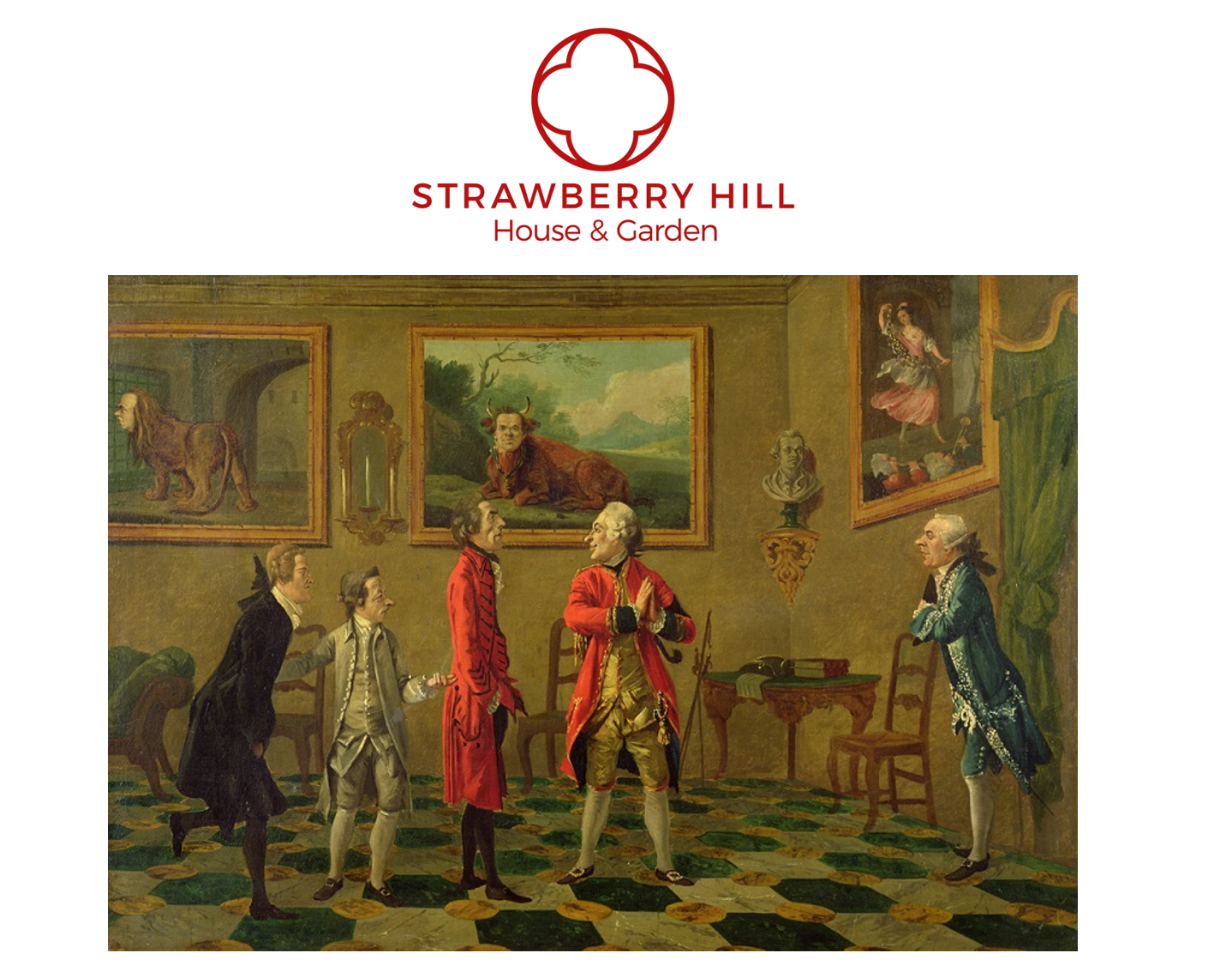 In Focus: The Grand Tour, the two Horaces and the Court of Florence (1740-1786)
24 March – 24 July 2022
A survey of the architecture of Florence, richly illustrated by Ferdinando Ruggeri (1722) –recently 'returned home' to Strawberry Hill House – inspires third In Focus display
The New Year sees Strawberry Hill House taking visitors on the Grand Tour, with a virtual visit to one of the most beautiful and beguiling cities on earth, Florence.
"I can truly say that I never was happy but at Florence" (Horace Walpole correspondence, vol.19 pp.486),
This In Focus display is dedicated to the Italian Grand Tour, in particular the friendship between Strawberry Hill creator Horace Walpole (1717-1797), and the British Envoy to Florence, Horace Mann (1706-1786). Both men were infatuated with both Florence and the Medici family.
Strawberry Hill contained a conspicuous number of Florentine works of art received as gifts or acquired thanks to the intervention of Horace Mann – Walpole's library included biographies, festival books, catalogues of the Medici's collections and books dedicated to Florence. Walpole even contemplated writing a history of the Medici Family, starting to prepare for it in 1759, but eventually dropped the project due to a lack of archival material.
This display is inspired by three volumes of Studio d'architettura civile sopra gli ornamenti di porte, e finestre .. tratte da alcune fabbriche insigni di Firenzeillustrated by the renowned Italian architect, Ferdinando Ruggieri (1691-1741) and produced exactly 300 years ago in 1722. The volumes, which represent a rare survey of Florentine architecture, are illustrated with exquisite plates showing the works by the leading mannerist architects active in Florence between the end of the 16th and the beginning of the 17th century, including Ammanati, Buontalenti, Dosio, Vasari, Michelangelo and Cigoli. Originally part of Walpole's Library they were dispersed at auction in 1842 along with the rest of the collection. It is thanks to the Acceptance in Lieu Scheme, administered by the Arts Council, that three volumes have finally returned home.
The purpose of this latest In Focus show is to place Ruggeri's volumes at the centre of a dense network of relationships and works of art that resonate with Walpole's infatuation with Florence and the Medici.
Mann, who arrived in Florence in 1737, was a leading figure at the Court of Florence, not only from a diplomatic point of view but also for his indefatigable promotion of the arts. Highly esteemed by the Florentine intelligentsia, he became a point of reference for all the British Grand tourists. Some of the most iconic objects in the Walpole collection were received thanks to Mann's mediation, from the portrait of Bianca Capello – the unfortunate wife of Francesco I de Medici – at the origin of the invention of the word Serendipity, to the famous marble Roman Eagle, one of Walpole's most treasured trophies.
After Walpole's departure, the two men were never to meet again, however their correspondence, which covers over 40 years, constitute a lively and invaluable source of information about the cultural and artistic life of Florence at that time, while simultaneously illustrating in detail the artistic relations, antiquarian interests and dissonances in taste of the two friends.
"Their letters not only provide us with invaluable information about contemporary collecting, the Italian art market and British taste, but also about political matters and diplomatic conundrums," says Strawberry Hill House Curator, Dr Silvia Davoli.
The three volumes will be displayed together with a series of important paintings and objects coming both from public and private collections that tell us more about the passion of the two Horaces for Florence and their antiquarian pursuits. These include some of Thomas Patch's most distinctive paintings and engravings; various extraordinary portraits such as Walpole as a young grand tourist by Venetian painter Rosalba Carriera (Lord Cholmondeley's Collection) and Horace Mann by Anton Von Maron (private collection); a splendid Trompe-l'oeil or Inganno by Caterina della Santa with a dedication to Cavaliere Orazio Mann along with the typical grand tourist paraphernalia including antique gems, ancient coins, drawings and engravings.
Strawberry Hill Director Derek Purnell says, "We are really looking forward to starting 2022 with the latest in our series In Focus displays, all featuring objects and artworks that tell us the extraordinary story of Strawberry Hill and its inhabitants."
Grand Tour Talk Series
Thursday 21 April at 7.30pm
Thomas Patch (1725–82): an English Artist in Florence
By Hugh Belsey, British art historian
Thursday 12 May at 7.30pm
"A perfect character for the stage". Sir Horace Mann, British Envoy and Cavaliere in Florence
By Dr Giulia Coco, Art historian and curator at the Italian Ministry of Culture
Thursday 26 May at 7.30pm
Cultural diplomacy in the Grand Tour between Rome, Florence and London: the role of Cardinal Alessandro Albani 
By Clare Hornsby PhD, FSA, Research Fellow in Art History, The British School at Rome and member of the Centro di Studi sulla Cultura e l'Immagine di Roma
To book please visit: www.strawberryhillhouse.org.uk/whats-on
For more information Twitter @ strawbhillhouse / Facebook @StrawberryHillHouse  / Instagram @strawbhillhouse