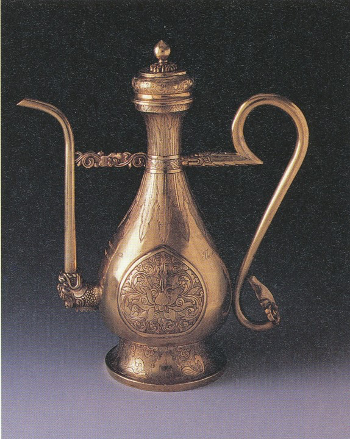 The Society for the History of Collecting
Invites you to its Online Lecture
 'The love of gain is most contagious…' (Robert Swinhoe, 1861): The story of 'China Jim' and the lust for Chinese Summer Palace gold.
By Professor Nick Pearce, University of Glasgow
2 February, 2021 at 6.30pm GMT / 1.30pm EST / 10.30am PST
Perhaps the most notorious event during the Anglo-French War with China of 1860, was the looting and then burning of the Imperial Summer Palace Garden complex known as Yuanmingyuan. It still resonates today, particularly in the mind of the present Chinese government. Much has been written about the jade, enamel and porcelain objects which came to Britain and France in the wake of the War and their continuing appearance at auction, but little about the precious metals, most notably gold, which we know were taken in large quantities. The various accounts of the War note that large amounts of gold were taken by officers from the Indian regiments (who made up nearly half of the British force sent to China), with at least one chronicler, John Hart Dunne, naming the officer who acquired a notably large quantity of gold: 'Harris, of the Punjaubees, has brought in 300lbs. weight of gold, valued at something like £12,000' (Dunne, From Calcutta to Pekin, London, 1861, p.143). The officer was Lt. J. T. Harris (1832-1914), whose legendary haul of gold will be discussed in this paper. What was it, how and from where was it taken and did it ever enter the auction market?
Biography: Nick Pearce holds the Richmond Chair of Fine Art at the University of Glasgow, where he specializes in the arts of China. He joined the University of Glasgow in 1998 where he has held the positions of Head of History of Art and Head of the School of Culture and Creative Arts and is currently a Smithsonian Research Associate. His research interests include photographers and photography in late nineteenth-century China and aspects of the collecting of Chinese art in the West during the eighteenth, nineteenth, and early twentieth centuries. His most recent publications include: "From the Summer Palace 1860: Provenance and Politics," in L. Tythacott (ed.), Collecting and Displaying China's "Summer Palace" in the West: The Yuanmingyuan in Britain and France (2018) and with Jane Milosch (eds.), Collecting and Provenance: A Multidisciplinary Approach (2019).
Please contact events@societyhistorycollecting.org if you are not a member and wish to register for the session.