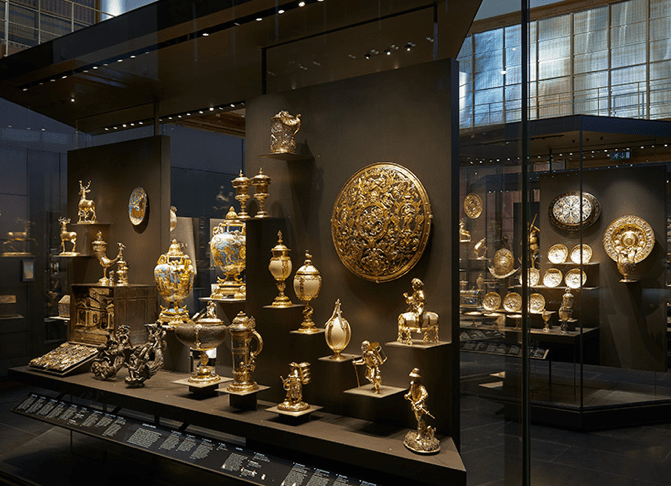 In 2015 a conference was held at the British Museum to celebrate the re-installment of the Waddesdon Bequest. This has now appeared as a series of essays which reflect the range of the collection and its history from a private collection at Waddesdon Manor to its gift by Baron Ferdinand Rothschild to the museum. As such it makes fascinating reading, providing indepth analysis of some of the key works of art in the collection and placing their acquisition in the context of the taste of the time. Baron Ferdinand's collection in the smoking room at Waddesdon was exceptional in English collecting taste,concentrating on primarily sixteenth-century works of art, including small sculptures and bronzes, silver goblets, Venetian glass, Italian maiolica, Limoges enamels, jewels and miniatures.
The introduction by Dora Thornton and the essay on the collection at Waddesdon by Pippa Shirley bring together the illustrations of the collection in 1897 from The Red Book, a copy of which has also been acquired by the British Museum, with a comprehensive account of the original collection. Written by Baron Ferdinand it gives a first-hand account of the collection and provides the most important information about the formation of the collection.
The next group of essays covers the contest of the collection, including its transfer and acquisition by the British Museum, providing an insight into collecting habits at the end ofthe 19th century in Britain as well as Ferdinand's own concerns as he created a collection worthy of donating to a museum.
These are followed by a number of essays examining particular objects in detail:  the Palmer Cup, gilded and enamelled glass vessels, the collection of Limoges enamels and two Nautilus and Bacchus cups As well as examining the art historical value and importance of these objects, the selection offers the opportunity to see the criteria by which Ferdinand acquired these works. Quality of design and workmanship, provenance and the historical importance were all of value to him, and for the most part he has been proven correct in his assessments. However, as the final essays point out, the interest and high prices being paid for Renaissance works of art at the time also resulted in dealers such as Frédéric Spitzer or forgers such as Salomon Weiniger entering the market and creating their copies or amalgamations of original works.
This book thus covers the many fascinating and intertwined histories of one of the most important of British collections, which we are still able to study as a single collection in its new display.
Adriana Turpin, July 2018.