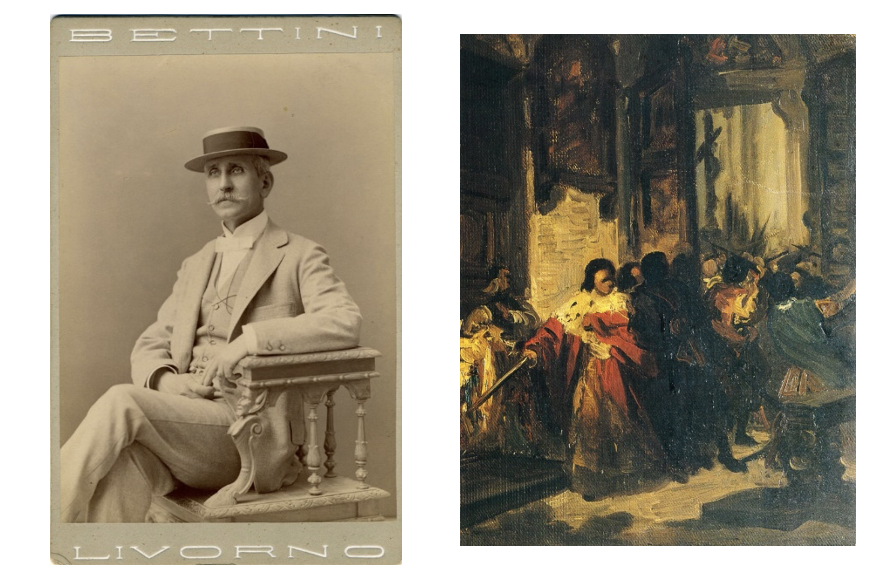 The Society for the History of Collecting invites you to its online lecture
Organised by the Italian Chapter
Bardini before Bardini: His early years and artistic education
Guilia Coco, Art Historian, Italian Ministry of Culture
Wednesday, 15 June 2022, 6.30pm (CET); 5.30pm (BST); 9.30am (PDT); 11.30am (CDT); 12.30pm (EDT)
Before becoming the famous antiquarian of Renaissance Art, Stefano Bardini (1836-1922) was a painter. He moved to Florence from Pieve di Santo Stefano (Arezzo) in 1853 to study at the Accademy of Fine Arts with Giuseppe Bezzuoli, Benedetto Servolini and Antonio Puccinelli. During the early years Bardini took part to several competitions with Florentine Renaissance subject paintings. He got several recognitions and exhibited his works at the Promotrice in Florence and Turin. Bardini also gained a prize at the Ricasoli Competition in 1859-1860. Towards the end of the Sixties, Stefano interrupted his artistic career. He enlisted Garibaldi's Army and when he returned to Florence he started restoring and selling Old Masters'Art. In this way he became the well-known «Prince of Antiquarians». This lecture presents researches whose first results are in course of publication in "MDCCC1800" (Ca' Foscari University, Venice).
Giulia Coco. Art historian at the Italian Ministry of Culture. She is Curator of Medicean Villas of Petraia and Cerreto Guidi and of the Garden of Castello's Villa in Florence. She is also curator of National Museums in Lucca and of the Mozzi Bardini Museum and Gallery in Florence. Her studies focus on Grand Tour, Florentine Collecting and Academy of Fine Art in XVIII and XIX centuries. Giulia Coco wrote several essays about this topics. In 2014 she published a monography on Sir Horace Mann, British Envoy to Florence in the second half of the XVIII century (Rome, Accademia Nazionale dei Lincei). Recently she worked on Giuseppe Bezzuoli's exhibition at the Uffizi Gallery (Palazzo Pitti, Palazzina della Meridiana, 2022).
Nonmembers should register by emailing:events@societyhistorycollecting.org
Members will receive a flyer with the link to the talk at least two days before the event.
Image Credit: (left) Portrait of Stefano Bardini. Florence, Bardini's Heritage Archive; (right) Stefano Bardini, Lorenzo de' Medici is saved from the Pazzi Conspiracy, 1858. Cerreto Guidi, The Medici Villa of Cerreto Guidi.