CELEBRATING LADY FRANCES WALDEGRAVE (1821-1879)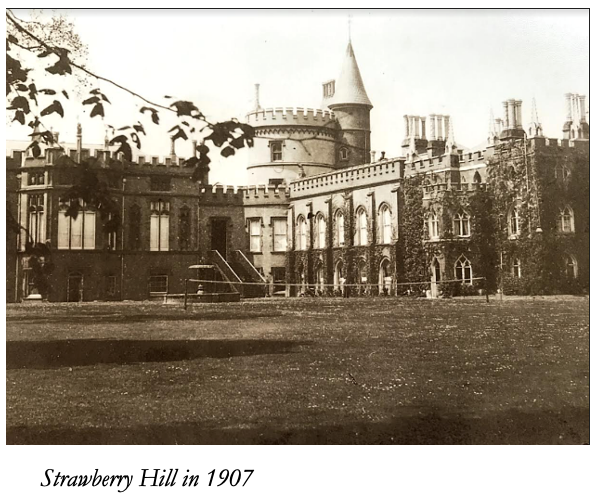 At Strawberry Hill, undisputed monument to the 18th century neo-gothic revival and to its creator Horace Walpole, the attentive visitor will find some traces that testify to the presence of Lady Frances Waldegrave. Between 1860 and 1862 she added to the original villa a wing in neo-gothic style, while altering the roofline of Walpole's original building by rising the tower at the south-west and by adding the characteristics Tudor chimney-pots.
Inside the Villa Lady Waldegrave enlarged the hall taking away some of the Gothic gloom that Walpole had intended for it, 
while her coat of arms and initials (F.W.) profusely decorate door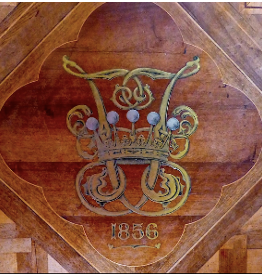 handles, stained glasses, tiles as well as being inlaid in the Gallery's wooden parquet floor that she imported from Paris. Finally, remnants of her colourful Victorian wallpaper, depicting roses and little birds, are still visible hidden in the recesses of the house.
Lady Waldegrave, the daughter of John Braham, a renowned Jewish Opera singer, inherited Strawberry Hill through her marriage to John Waldegrave, the grandson and successor to Horace Walpole's great niece, Elizabeth Waldegrave.
Following John's death in 1840 she married his brother George, the 7th earl of Waldegrave, thereby maintaining her links to the gothic villa. The dissolute George eventually decided to sell Walpole's collection in 1842 only to die a few years later leaving a dilapidated Strawberry Hill to his young widow. At this point, Lady Waldegrave, strengthened by a new economic security and the constant support of her two subsequent husbands (!), George Granville Harcourt and Chichester Fortescue, decided not only to restore Strawberry Hill to its former glory, but to make it an ideal venue for the 
liberal elite.
Writer and historian Harold Nicolson in his review of Oswald Hewett's 
Strawberry Fair: A biography of Frances, Countess Waldegrave
(1956) outlines 
Lady Waldegrave's extra-ordinary character: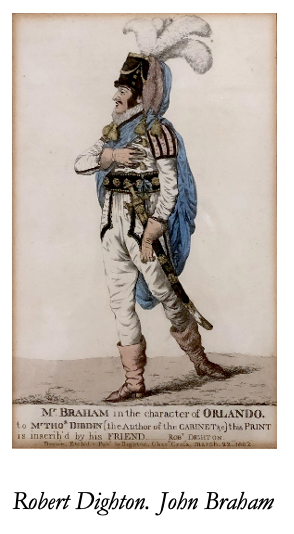 "How came it that the daughter of flamboyant and generally bankrupt Jewish singer should so early have become, and so long remained a leader of Victorian society? How came it that a woman who had four husbands in such rapid succession did not incur the disapproval of an age that was strictly monogamous? How came it that a widow who married within a few months her deceased husband's brother should not have been reproached with a breach of prayerbook rules? (…) The answer, I suppose, is that she possessed such overwhelming charm that she made no enemies (…). From her father she had inherited bravura, from her mother optimism, extravagance, a hot temper and a taste for histrionics; and from both a wonderful constitution and a vitality that never 
flagged".
Thanks to the recent online exhibition The unexpected Jewish Past of Strawberry Hill https://www.strawberryhillhouse.org.uk/the-unexpected-jewish-past-of-strawberry-hill-house/new information has emerged relating to Frances' upbringing and close relationship with her family. Lady Waldegrave's father, John Braham, not only was a great opera singer internationally known, but also a flamboyant character and a theatre impresario who, at the turn of the 19th century, came to incarnate the successful Jew in the British consciousness.
Frances loved deeply her father and supported the family's theatrical business throughout her life. In the light of these discoveries a new Strawberry Hill has emerged, a meeting place between distant worlds, a protected space within which
Lady Waldegrave was able to bring together her different souls: Jewish, Catholic, liberal, artistic. Still, much remain to be told about this extraordinary woman to whom Strawberry Hill owes so much and in Spring 2022 an exhibition will be entirely dedicated to her.

Among the topics we would like to address with the exhibition are: her relation with her favourite neighbour the Duc d'Aumale, 
her commitment to rescue the Walpole Collection, her successful activity as a political hostess, her patronage of artists Edward Lear, John Everett Millais and James Tissot, her pioneering taste for Italian 
primitive paintings and much more!
Silvia Davoli, Curator, Strawberry Hill House & Gardens
27 May, 2021