SOCIETY FOR THE HISTORY OF COLLECTING
THE MIND IN THE MATTER: NEW APPROACHES TO THE PSYCHOLOGY OF COLLECTING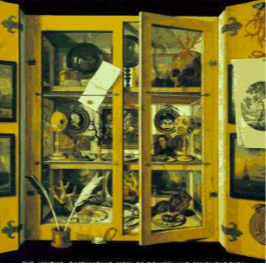 Research Workshop
10.00-13.30 Wednesday 27 March, 2019
Institute of Historical Research, Senate House, Malet St., London WC1E 7HU
Psychology informs us about what drives an individual to collect. In the Enlightenment, the human mind was often analysed and discussed by means of metaphors and analogies borrowed from the world of collecting. In the nineteenth-century, the stereotypes surrounding the monomaniac, eccentric or perverse collector was codified in the art press and through fiction. In the twentieth century, the topic was treated at length by scholars such as Werner Munsterberger, often working in an explicitly psychoanalytic framework. Whilst this Freudian approach has been subject to intense criticism in the past thirty years, many scholars continue to interpret collecting in terms of categories such as 'lack', 'surrogacy', 'desire' and 'loss'.
Join us for a workshop that investigates the extent to which psychological models are still valid and necessary to understand collecting as a human activity. Is there a tension between the universalising psychological theories and the drive to study collecting historically? What sources are particularly useful or revealing for uncovering the collector's motivations or relations to his objects? What can recent developments in psychology and neuroscience add to our understanding? How far can or should we enter the interior life of a collector, and what role does imagination play in communicating these insights to new audiences? And what are the meaningful alternatives, apart from opportunistic acquisitions; to a psychological approach of the study of collecting – can we ever escape from this way of thinking?
The workshop brings together six specialists working in different disciplines, who approach the 'psychology of collecting' from alternative perspectives, using historical case-studies and scientific models. Confirmed speakers include: the pioneering historian of collecting Professor Susan Pearce; neuropsychologist Professor John Harrison; artist, collector and scholar Dr Jane Wildgoose; librarian and heritage expert Dr Tony Burrows; doctoral researcher into the collector Sir William Burrell, Isobel Macdonald; and contemporary art adviser Shaune Arp.
Please register for your place on Eventbrite. Tickets are free for students and £10 for members. For any enquiries about the event, please contact:
events.societyhistorycollecting@gmail.com
Organizing committee: Tom Stammers, Adriana Turpin, Eleni Vassilika
The workshop is supported by a grant from the Worshipful Company of Playing Card Makers