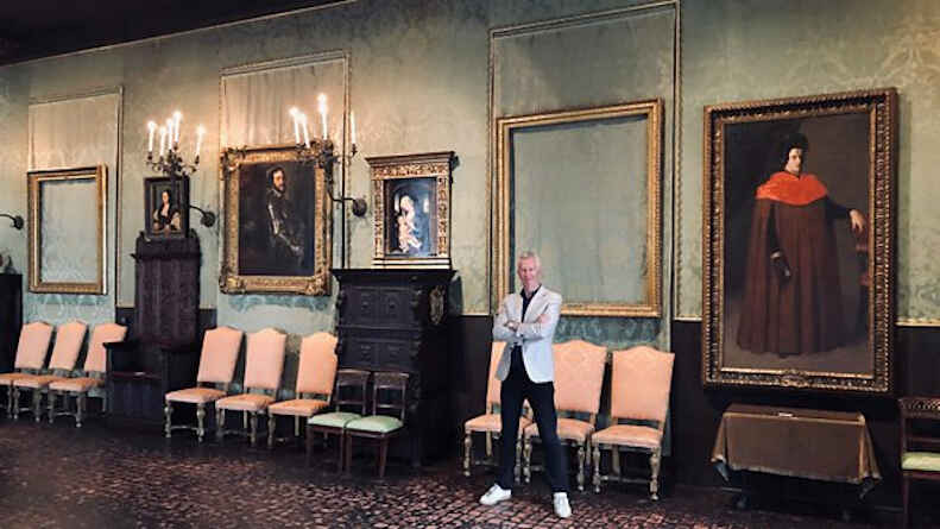 John Wilson in The Billion Dollar Art Hunt.
BBC Four Documentary: The Billion Dollar Art Hunt 
19 October 2020 and available on BBC iPlayer for 10 months
Reviewed by Eleni Vassilika.
Presented by the journalist John Wilson, this documentary tells the story of how thirteen works of art stolen from the Isabella Stewart Gardner Museum on 18 March 1990 might yet be recovered. After midnight on St Patrick's Day, two men dressed as policemen gained entry, tied up the night watchmen and spent 81 minutes selecting three Rembrandts (one of which was a small etching that required undoing nine screws), a Vermeer, a Manet, a Flinck, five Degas, and two relatively inexpensive other objects.
The documentary opens with Charles Hill, former Detective Chief Inspector from London's Metropolitan Police Art Squad, whose formidable list of past art recoveries includes The Scream and a number of Old Masters. Hill has reason to believe that the works were stolen by Irishmen and are now in Dublin. His hunch is reinforced by two facts: a valuable Vermeer painting was stolen twice from Russborough House in 1974 and 1986 by Irishmen; an Irish murder suspect volunteered information about the stolen Gardner paintings during an interview with a Newcastle detective, who consulted with London's US embassy, but was turned away because it might have ultimately involved negotiating with Irish terrorists.
However, Anthony Amore, Chief of Security at the Gardner Museum, and the FBI don't buy this story and are fixed on the idea that the Italian-American Boston mafia have the works. TRC Auto Electric was a Boston front for dealing in cocaine and fencing stolen goods under the criminal Carmello Merlino, who was once overheard by two FBI informers making an effort to locate the paintings and take control of them from the thieves. An eventual lead led to Bobby Guarente in Maine. When his house was searched, his wife admitted that the paintings had been there once but were no longer. Later the FBI found a list of prices for the stolen paintings in the home of another mafioso Bobby Gentile. On his deathbed, Gentile admitted to his lawyer that "there ain't no paintings". At this point, the journalist John Wilson demonstrates a certain hubris and lack of understanding of his role in this documentary and asks "Am I being spun a line by law enforcement?", almost as if they might be saying things for his benefit and gratification.
Back in Dublin the former Head of the Garda Murder Squad describes Charles Hill's source Martin Foley, 'The Viper', as a former boxer who has survived some four assassination attempts, a clever villain, who probably does indeed know where the paintings are being kept. Foley will reveal the whereabouts of the works, but he wants immunity from prosecution. However, because the Gardner is offering a $10 million reward and Irish law does not allow for anyone to profit from a crime lest the reward might end up with an illegal organisation or paramilitary group, there is a standstill. The journalist becomes impatient, demands to speak direct to Foley, gets annoyed when Foley disappears from his home and says, "This is getting ridiculous, [Charles Hill] can't even arrange a meeting with his criminal source" once again acting as if he is the protagonist in a thirty year old case he has just entered as a journalist. Boston antagonises the situation further by saying that Foley should either put up or shut up, otherwise he is just a conman.
The documentary is spun out with meaningless interviews of Bostonians in the Gardner Museum. However, the suspect in the earlier murder enquiry, who once offered information to the Newcastle detective, agrees to talk with his back to the camera. He claims to know one of the Gardner thieves who had an Irish Republican connection, but who had no permission from the IRA to undertake the theft. This man admits to having been asked to negotiate the return of the works and secure the reward, but then was told to leave it be. He claims that the stumbling block is the allegation that the IRA was involved, which he assures us was not the case.
On balance, the viewer is persuaded by the Irish connection, and less by the Italian-American mafia one. Repeatedly, the journalist John Wilson comes off badly demanding at the end to know when this is going to end, questioning whether he or Charles Hill has been naive.