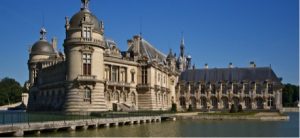 WEEKEND IN CHANTILLY
Saturday – Monday 6-8 April
Join the Society for the History of Collections and the Society for Court Studies for a special weekend in order to visit one of the most renowned collections of the nineteenth century at the Château of Chantilly. The present château was built between 1875 and 1882, by Henri d'Orléans, duc d'Aumale (1822–1897), fifth son of Louis-Philippe I, king of the French between 1830-1848, upon his return to France after a long exile in England. He created one of the greatest collections of works of art in France, including paintings by Piero de Cosimo, Botticelli, Raphael and Guercino and French painters including Mignard, de Troy, Watteau, Ingres, Corot and many others, including orientalists like Fromentin. Among the famous manuscripts in the library are Les très riches heures du Duc de Berry, the Ingeborg Psalter and 40 miniatures from Jean Fouquet's Book of Hours of Etienne Chevalier. The château was furnished by the duc d'Aumale with a collection to rival the Wallace Collection, among the most famous pieces being the desk made for Lalive de July in the gout grec (1768-70), or the great mineral cabinet by Georg Haupt of 1774 made for the Prince de Condé.
The focus of our visit will be the exhibition on view of works by the painter, Eugène Louis Lami (1800 –1890) who worked extensively for the duc d'Aumale, creating many of the fashionable images of the Orleans monarchy, as well as for Queen Victora and the Rothschilds. This exceptional opportunity to see the fashionable and collectable art of the nineteenth century will complement visits to the recently restored private apartments decorated for the duke and his wife in the 1840's, the only surviving royal apartments of the July Monarchy, open for visits for the first time in 2019.
From Senlis, where we will be based, other visits will include that to the Abbaye de Chaalis nearby, also owned by the Institut de France, which houses the former collection of artworks of Nélie Jacquemart-André, forming the second half of the better known collection at the Jacquemart André. The abbey itself was founded in 1166 and in the grounds there still survives a 16th –century chapel with frescoes by Primaticcio.
We plan to stay in Senlis for at least Sunday night. On Saturday we plan a walking tour of the Palais-Royal (where Aumale grew up) and Louvre districts of Paris with Philip Mansel, and a visit to the Kugel Gallery to see its major collections of works of art and decorative arts.
Notification with further details and a final costing to include hotel and dinner on Sunday, entrances, lecturers' fees, lunches and transport during the weekend will go out in November when interested members can pay a deposit through eventbrite. Participants will make their own way to Paris or directly to Senlis. Anyone wishing to register early interest can email Laure at l.demazure@gmail.com