TO CELEBRATE POETRY MONTH
While the term "collection" is most often applied to poetry with the phrase "poetry collection," Poetry Month has prompted thoughts on the relationship between poets, poetry, and art collecting. Here is one connecton between collecting and poetry. Can you think of others?
Samuel Rogers (1763-1855), best known for his volume Italy, A Poem, was also a noted collector, whose posthumous auction attracted a lot of attention. Held over nineteen days, the collection ranged from Egyptian works of art, antique glass to prints. His town house in St. James' Place was a centre for artists and writers, who attended his famous breakfasts and dinners. Described as a palace of art, it was seen as a place of education and learning. John Linnell's portrait of Samuel Rogers was purchased for The National Gallery in 1926.
Ruskin apparently was introduced to Rogers by the editor and poet, Thomas Pringle (1789–1834) having been given a copy of the poem as a child. It is said to have influenced his language and ideas about Italy. http://english.selu.edu/humanitiesonline/ruskin_dev/notes/rogers_samuel_note.php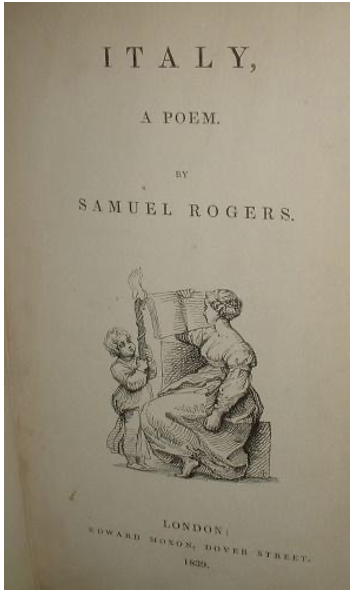 Italy, A Poem
His visit to Italy in 1815 led to this poem, famous in his lifetime, extolling the beauty of Italy, its art and its culture.
More interested in the history and people of Italy, there is not very much in his poem about the collections he might have seen, although in Florence he does write about the architecture and buildings, their owners and the lessons to be learned.  Alongside references to Dante and Petrarch, Duke Cosimo I and Lorenzo the Magnificent, the painters and their skills are extolled, not surprisingly Raphael and to a lesser extent Michelangelo but also Masaccio.
The poem (first published in 1822 with the illustrated volume published in 1830) can be read here:
https://babel.hathitrust.org/cgi/pt?id=hvd.32044011790979&view=1up&seq=13
There is one very short reference to the Tribuna: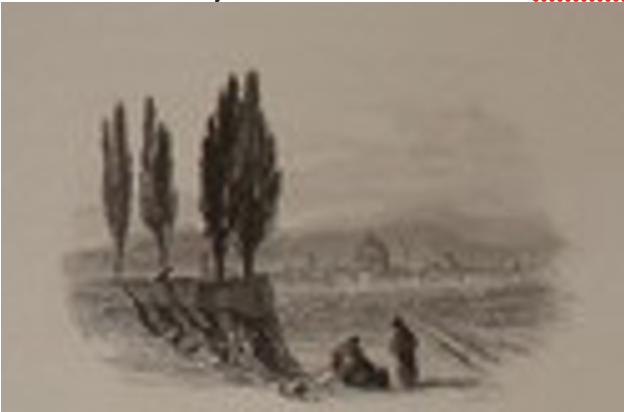 But with a sigh, a tear for human frailty,
We may return, and give a loose
To the delighted spirit – worshipping,
In her small temple of rich workmanship,
Venus herself, who when she left the skies
Came hither.
The catalogue of his collection can be found here:
https://www.google.com/books/edition/Catalogue_of_the_Very_Celebrated_Collect/oV4oAAAAYAAJ?hl=en&gbpv=1
among his most notable objects in his collection, Raphael's Mackintosh Madonna, now in the National Gallery, London, was sold on the sixth day. Other works once owned by Rogers and now at The National Gallery include Dirk Bouts, Portrait of a Man (Jan van Winckele?) and The Trinity (La Gloria) now considered after Titian.
The painting identified as by Giovanni Bellini (lot 595) is now given to Cima da Conegliano and is held by The Metropolitan Museum of Art:
https://www.metmuseum.org/art/collection/search/435901?
Two other works with a Rogers' provenance are in The Metropolitan Museum of Art: the predella panel from Raphael's Colonna Altarpiece depicting The Agony in the Garden
 https://www.metmuseum.org/art/collection/search/437371?
and Annibale Carracci, The Coronation of the Virgin: https://www.metmuseum.org/art/collection/search/435853?
Not surprisingly, in addition to historic paintings, his collection included works by the contemporary British artists, Thomas Stothard and J. M. W. Turner, both of whom he commissioned to provide illustrations for his long poem.
Watercolours Turner created in connection to this commission are included in the Turner Bequest and if you look at the Tate website they give a very nice introduction to the production of the poem and the watercolours
https://www.tate.org.uk/art/research-publications/jmw-turner/watercolours-related-to-samuel-rogerss-italy-r1133288#entry-main
Join us in celebrating POETRY MONTH
Elizabeth Pergam                                                                                22 April, 2021